Alien Abductions: What Do The Researchers Say?
Alien abductions/experiences, like Roswell this is a topic that seems to divide UFO research right down the middle. Below you can read what some of the leading lights on the UFO scene really think about alien contact.
Nick Pope: Just as the UFO phenomenon has no single explanation, I believe there are various different explanations for the alien abduction phenomenon. Some cases will be hoaxes and some may be attributable to some form of hallucination or delusion. To this we can probably add vivid dreams, sleep paralysis, false memory syndrome and various other factors. However, this doesn't explain all the cases and I suspect there's some other factor at work here. Scientific studies of the abductees show no evidence of psychopathology or falsehood and suggest that in recalling their experiences they exhibit physiological reactions (e.g. increased heart rate and perspiration) not seen in control groups of non-abductees. My own case files on this run to about 100 incidents. The most compelling involves a young woman called Brigitte Grant (a pseudonym), who I worked with for a number of years. There's some information about her on the internet, but she's dropped out of ufology now and witness confidentiality precludes my saying anything not already in the public domain.
Timothy Good: Yes, in fact I've had several encounters with beings I believe were from elsewhere. The first occurred at a diner near the Arizona/California border in November 1963 while I was on tour with the Royal Philharmonic Orchestra. It would take me too long to go into all the details, but it involved an unusual young woman who – in the presence of three of my colleagues – responded very positively, but non-verbally, to my telepathic question as to whether she was from elsewhere. Just after we left the diner in our convoy of three coaches, I was astonished to see a road sign for Desert Center – I'd no idea we were anywhere near there. Quite a coincidence!
The second encounter took place in the lobby of a hotel in the middle of New York in February 1967, between a rehearsal and concert with the London Symphony Orchestra. About half-an-hour after I'd transmitted a telepathic request for definitive proof that some aliens were living among us, an immaculately suited man walked into the lobby then sat beside me. Following my telepathic request to indicate by means of a certain sign if he was the person I was looking for, he did so immediately. Neither of us spoke. It was a cathartic experience for me.
Karyn Dolan: I'd love to think that the UFO occupants are benevolent. I just don't feel that I have enough information to justify that belief. I've heard people say that if they wanted to harm us, they would have done so by now. To me, this presupposes that we know their motivations. I don't think I know what they want. They may have very good reasons for waiting a while before they harm us. The fact that they're telling us they don't want to harm us doesn't reassure me, either, since we have absolutely no way to judge whether they're telling the truth.
Of course, they may not be as harmful as we think, either. It's true that they haven't tried to round us all up into their spaceships and eat us, or to simply shoot us all with lasers on the ground. (See how goofy it sounds when you actually say it?) Many people have pointed out that they seem to be studying us in the same way that we study animals. Human researchers shoot an animal with a tranquilizer, abduct it, study it, take tissue samples, and return it to the wild — sometimes in the right place, sometimes not. I like to imagine the animal returning to its family and debating whether to tell them about its abduction experience. Will anyone believe the story? Will they be ridiculed? Will they forever have to fight harder for a place at the watering hole?
Contact with aliens can be a terrifying and traumatic experience for those who live through it. I have a great deal of sympathy for people who've experienced this, and I can't tell you how much I admire the courage of the ones who choose to share their stories. Because that's the only way we learn about what's happening, and that's the only way others who go through the same thing can come to terms with their own experiences. It's incredibly important, and it's incredibly difficult to do. These people are heroes in my eyes, just for living through what they have and not letting it beat them down.
I think there is no single answer to this question of whether they mean us harm or good. I believe there are several groups here, I don't know how many, and I don't think they all have the same motivations. So trying to ask, "what do they want?" is an oversimplification, to say the least. It's simply not possible to answer that question without a lot more information, beginning with "whom do you mean by 'they'?"
Richard Dolan: With questions like these, we naturally enter a realm of speculation. Jacobs' theory does have a certain compatibility with what you're talking about. The real question is, if there has been a long-standing alien presence on our world in some form or another, have they been manipulating us? Although definitive proof eludes us, there are suggestive reasons for thinking this is the case.
One of my friends, Colleen Clements, who has a PhD and formerly taught at the Rochester Institute of Technology, has written a number of books that suggest this scenario. If so, if we have been "developed" in some way, it's not much of a stretch to assume that these other beings would consider us something of an investment. Would they want to control, at least in broad terms, our social and political and intellectual development? Might they be doing so now? These are the themes that people like David Icke discuss, and as crazy as they sound to the uninitiated, responsible investigators are obligated to inquire. We may not have answers easily forthcoming. But when you are doing an investigation, you have to do it honestly and courageously. You can't rule things out because they seem absurd to you at first glance. You have to look at the facts and decide what scenarios fit within those facts.
Mac Tonnies: Cultures all over the world seem to have a special affinity with insect intelligence, a theme we seem to see reiterated in Western pop culture's eponymous image of the "Gray" alien. "Trippers" who ingest DMT sometimes describe similar insect-like entities. The question that naturally arises is whether we're indeed making contact with an intelligence external to our own minds or else tapping into some neural legacy.
Colony collapse disorder is at least as disturbing, albeit for different reasons. The global die-off of bees reminds us how intricately connected we are with the planet. Ultimately, there are no dispassionate, clinical observers; we're embedded in the experiment with no clear sight of its purpose — assuming, of course, that it has one.
Paul Kimball: I have never seen any evidence that would lead me to conclude that human beings have been abducted by extraterrestrials. None. Zip. Zero. Nada. Zilch. I would be happy to take a look at it if it existed, but it simply does not. Now, does that mean that the people who report these experiences are all lying? Of course not. Does it mean that we can explain, in each and every case, what has happened to them? No. However, in the vast majority of cases there is a relatively simple non-paranormal explanation readily and easily available (see The Abduction Enigma by Kevin Randle, Russ Estes and William Cone, for a good overview). Could there be a paranormal element to a few cases? Who knows? Anything is possible, because what we call "paranormal" today might simply represent something we don't understand yet, but will someday in the future. But the key here is that not every mystery has a simple and pat answer, as much as we would like it to. The so-called "abduction phenomenon" is one of those.
Now, beyond all of that, there is the "methodology" of the abduction "researchers" themselves, which has always relied on hypnosis. I think these people have done a great deal of harm to the people they have purported to help, and I wish there was some way that the authorities could step in and stop them. Unlike some guys who have jumped on the anti-hypnosis bandwagon in the past year or two, but were happy to invite researchers like Budd Hopkins to conferences that they were running, I have always been consistent in my view that hypnosis is not a valid investigatory tool, and that most of the abduction "researchers" have in essence created a cult around themselves.
———————————————————
I have a new ebook out, "PARA-NEWS," which includes a UFO chapter and where you can read the complete interviews with some of these researchers. You can buy it now on Amazon US and Amazon UK.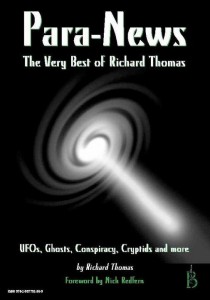 Also, I have a similar post to the one above about the chupacabras on our sister site Cryptomundo. And don't forget to check out my latest Room 101 Interview for Binnall of America with Jim Marrs.
Related News Stories: