Ray Stanford On Radio Misterioso Sunday
Ray Stanford
(Photo by Jacquelyn Martin, AP)
A few years ago, Chris (Mysterious Valley) O'Brien put me in touch with a UFO personality who's been around since nearly the beginning. Ray Stanford's involvement in the subject stretches back to the mid 1950s, when he and his twin brother Rex, (now a doctoral psychologist with an extensive involvement in the study of parapsycholgy) entered the field with a fascination for the UFO contactee movement. Both were barely out of their teens in 1958 when they wrote Look Up, an account of their own sightings and theories at the time.
As one of the principal NICAP investigators into the 1966 Socorro incident, Ray Stanford documented his run-ins with the U.S. government in his 1975 book A Socorro "Saucer" In A Pentagon Pantry. In the early 1970s, he was co-founder of The Association For The Understanding of Man, which used both scientific and psychic methods to probe the mystery of UFOs and other anomalous phenomena, and in 1973 tested Uri Geller's abilities.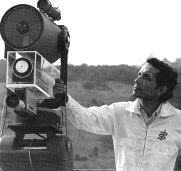 In the mid 1970s, his UFO hunting study, Project Starlight, used photography, magnetometers, and lasers in an attempt to locate, document, and possibly communicate with the UFO phenomenon. We'll talk about his findings while running the project.
Stanford has also made his mark as an amateur paleontologist, with the discovery of hundreds of dinosaur fossils and fossil tracks to his credit. He has even attracted the attention of the Smithsonian Institution to display his extensive collection.
We'll be talking about these subjects and a few others on Sunday the 18th from 8-10PM PST on Radio Misterioso at killradio.org. The show is also simulcast by our friends at Anomaly Radio. This is a rare chance to listen to a man whose experience spans much of the 20th century's history of UFOs and the unknown.
UPDATE (1/18/09 7PM): The killradio site has been hacked and is not appearing as usual, but you can click on the still visible "Listen" link and get the stream, or use this link.
Related News Stories: