UFOs: Strange Company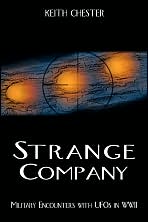 A few years ago while on a visit to the National Archives, Maryland, I ran into a guy named Keith Chester, a UFOÂ investigator who was there doing research into the Foo Fighters and other World War II UFO activity.
We chatted for a while about our respective research and have stayed in touch since. And now, I'm very pleased to say, the results of Keith's research are available to one and all.
Yep: Keith's book, Strange Company, is now upon us.
I recently read the complete manuscript of the book and can state with certainty that this is a book that should be digested by anyone and everyone interested in WWII UFO encounters, and is a book that will be making big waves this year.
Never mind just the Foo Fighters: keith's book is filled to the brim with truly astonishing – and never before seen – official files on all-manner of wartime unexplained aerial activity, secret official investigations, and reports of encounters with UFOs of a truly mind-boggling nature.
Here's the blurb from the publisher, Anomalist Books, that will allow you to get a clearer picture of Keith Chester's Strange Company:
It may be the most important UFO book to appear in years. In a startling feat of historical research, Keith Chester's new book, Strange Company: Military Encounters with UFOs in World War II, details an aspect of World War II that has been shrouded in ignorance for more than sixty years.
Chester reveals that as the war gripped the world for six years, military personnel reported seeing numerous highly unconventional aircraft in all theaters of operation. These objects had extraordinary flight performance capabilities, came in a variety of shapes, sizes, and colors, and were able to travel at extraordinary speeds and avoid radar detection. The author recounts the reactions by military commands, their viewpoints, and theories as they struggled to make sense of the observations. A scientific panel convened by the CIA eight years after the war admitted that these unconventional objects were of unknown origin.
"In this eye-opening, thoroughly researched book, bristling with surprising revelations," writes UFO historian Jerome Clark in the foreword to the book, "Keith Chester challenges decades of conventional wisdom about the UFO phenomenon."
It's time to drop the pretence that UFOs were a rare sight before 1947, when pilot Kenneth Arnold witnessed nine "flying saucers" over Washington State. While Arnold's sighting is regarded by many as the beginning of the UFO phenomenon, Strange Company illustrates just how pervasive the phenomenon was years earlier–before, during, and after World War II.
"What this work suggests," says author Keith Chester, "is that while an immense twentieth century war was raging on Earth, someone, or something, from somewhere else, was watching us."
I recently conducted a lengthy interview with Keith for a forthcoming issue of UFO Magazine, so keep a look out for that. This is a book definitely not to be missed.